CRADLE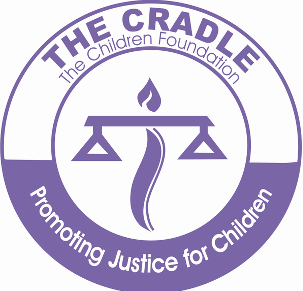 The CRADLE – The Children Foundation, is a Kenyan non-governmental organisation committed to the protection, promotion and enhancement of the rights of the child through court representation, advocacy and law reform. The objectives of The CRADLE are:
To enhance access to justice for children;
To ground child rights in development and with communities;
To enhance a child-friendly legislative and policy framework;
To work towards the eradication of violence and exploitation of children;
To contribute to the general development of human rights in the country.
CRADLE's work involves legal aid and representation to ensure that children access justice, advocacy on legislative and policy matters, including public interest cases, creating awareness on child rights and building capacities of stakeholders and communities, research and documentation, and networking and advocacy. CRADLE took up human trafficking as an issue in 2005, and currently the organisation has a counter-trafficking in persons project. Under this project, CRADLE has so far done the following: an assessment of trafficking in Kenya, training of government officials and other stakeholders on trafficking, development of training manuals and other materials on human trafficking and played a role in developing the Anti-Trafficking law.
Contact Details:
Address: Swiss Cottages (Apartment no. 1),
Ring Road Kileleshwa off Riverside drive
P.O BOX 10101-00100 G.P.O, Nairobi, Kenya
Tel: +254 2 3874575; Fax: +254 2 2710156
Email: This email address is being protected from spambots. You need JavaScript enabled to view it.
Website: http://www.thecradle.or.ke