E-Bulletin October 2016 - News from the GAATW International Secretariat
Launch of Anti-Trafficking Review issue 7 'Trafficking Representations'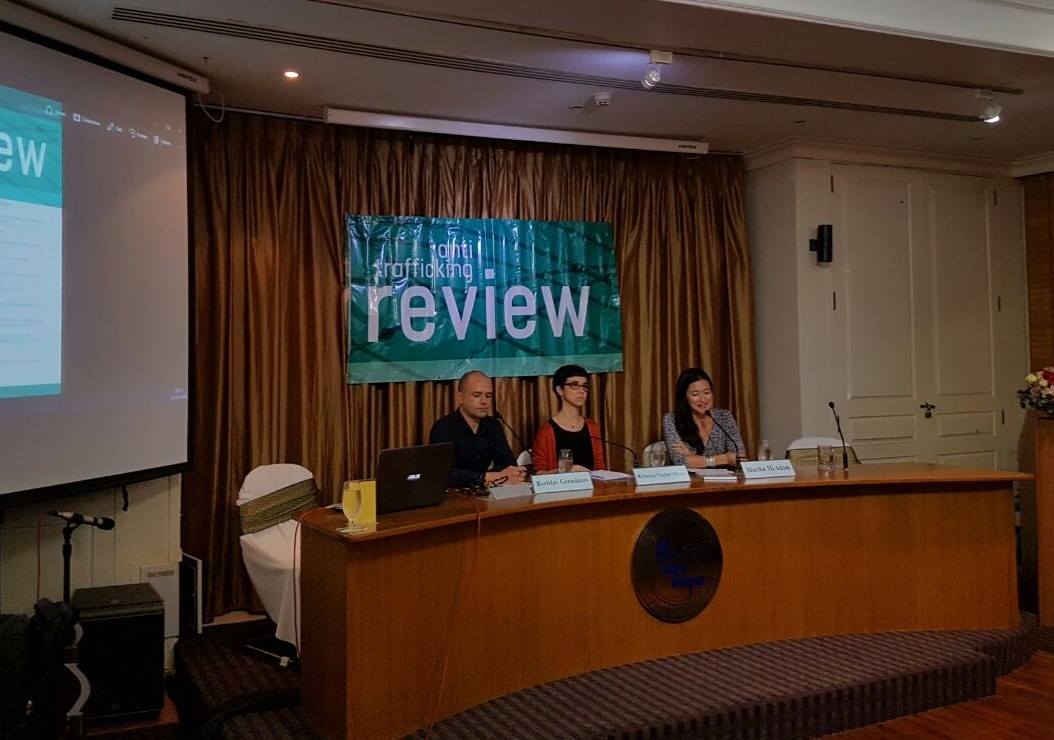 On 30 September we launched the new issue of the Anti-Trafficking Review themed 'Trafficking Representations' at the Foreign Correspondents Club in Bangkok.
Representations of human trafficking, forced labour and 'modern slavery' are pervasive within media, policymaking, and humanitarian debates, discourses and interventions. This issue of the Anti-Trafficking Review explores the ways in which different forms of representation erase the complexity of the life trajectories of people who have experienced trafficking, as well as those of migrants, women, sex workers and others who are labelled as victims or 'at-risk' of trafficking. Contributions examine the specific visual material and narratives, both past and present, though which representations of trafficking and slavery are constructed and reproduced in film, TV, newspaper and public discourse. The articles investigate such images and narratives in Australia, Cambodia, Nigeria, Serbia, Denmark, UK, and USA and discuss the appeal held by popular representation of trafficking and the victim of trafficking.
On the day of the launch we organised an event at the Foreign Correspondents Club in Bangkok to present the issue. A broad range of anti-trafficking stakeholders based in Bangkok attended, including representatives of NGOs, UN agencies and academia. The issue was presented by the ATR editors Rebecca Napier-Moore and Borislav Gerasimov and Editorial Board member Marika McAdam. The guest editors and two of the authors – Sine Plambech and Claudia Cojocaru - joined the presentation via Skype.
In July the Anti-Trafficking Review published a new call for papers for the next issue themed 'The Lessons of History', with a guest editor Julia O'Connell Davidson, which will be published in September 2017. This issue will critically examine the ways in which the history of transatlantic slavery is increasingly invoked in dominant discourses on trafficking, ask about the pasts that created a present in which people are transported by means of coercion or deception for purposes of exploitation, and consider what history might usefully teach us about anti-trafficking policy and activism. Deadline for submissions is 8 January 2017.
13th AWID International Forum 'Feminist Futures: Building Collective Power for Rights and Justice'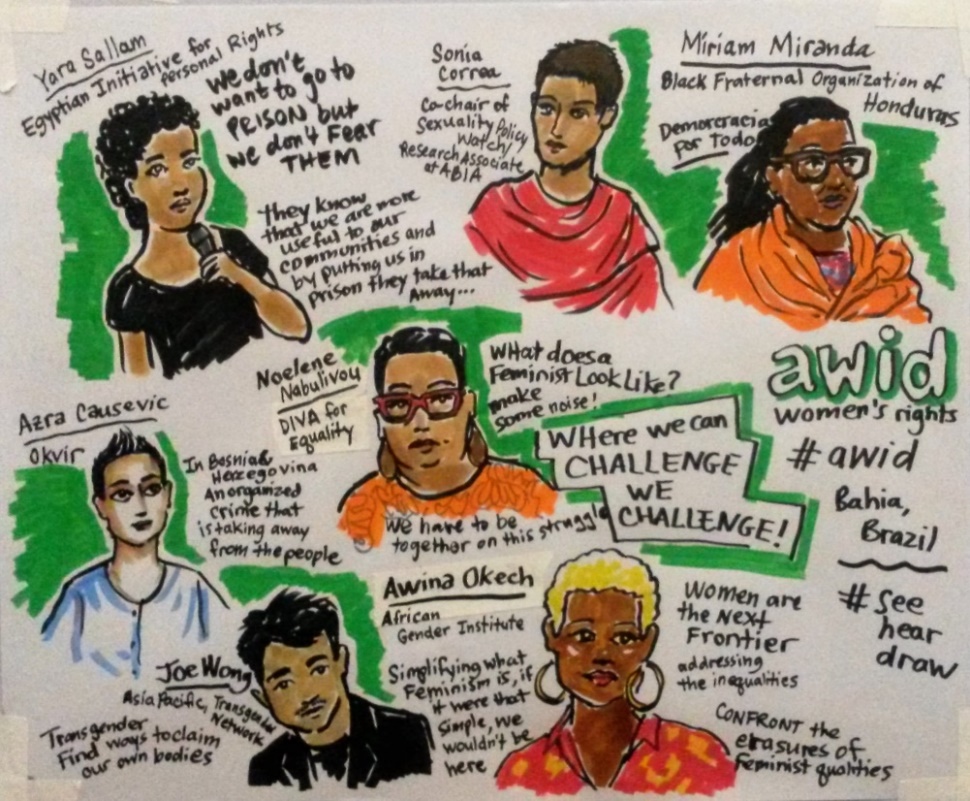 GAATW-IS participated in the 13th AWID Forum between 8 and 11 September in Salvador de Bahia, Brazil. The choice of the place was no coincidence - Salvador was the main port for trade of slaves in South America, but it is also a significant region in Black freedom movements. Neither were participants deaf to the current background of increasing tension in Brazil due to the impeachment of Dilma Rouseff, and all through the Forum their disagreement were expressed by the cry "Fora Temer! Nao ao Golpe!" (Temer, leave! No to the coup!)
The Forum was a reminder of how many great people are out there building a world that we can be proud of. Almost 2 000 people with diverse bodies, minds, thoughts, genders and languages built a shared space to find out different ways to support each other, proving wrong those who have used diversity as something negative, as a source of fear among people, as Azra Causevic from the LGBT*IQA Association OKVIR pointed out.
Feminisms have many different agendas and we are not able to do everything by ourselves, so it is essential for us to create alliances and cross-movement actions keeping in mind that, as Myrna Cunningham quoted from Emma Lazarus during the opening plenary, 'Until we are all free, we are none of us free'.
Women share the lack of power worldwide, that is why women have to be the change and we have to initiate the change in order for it to happen. Dilar Dirik, Kurdish activist, reminded us that 'you cannot do the revolution, you have to be the revolution. The revolution is inside you or it is nowhere'.
We came back with tons of information and ideas, and it is our job now to reflect and decide how we can use it to strengthen not only the Secretariat's work, but also the work of our member organisations.
And of course: Our future will be feminist or it won't be.
Sub-regional Consultation Alliance 8.7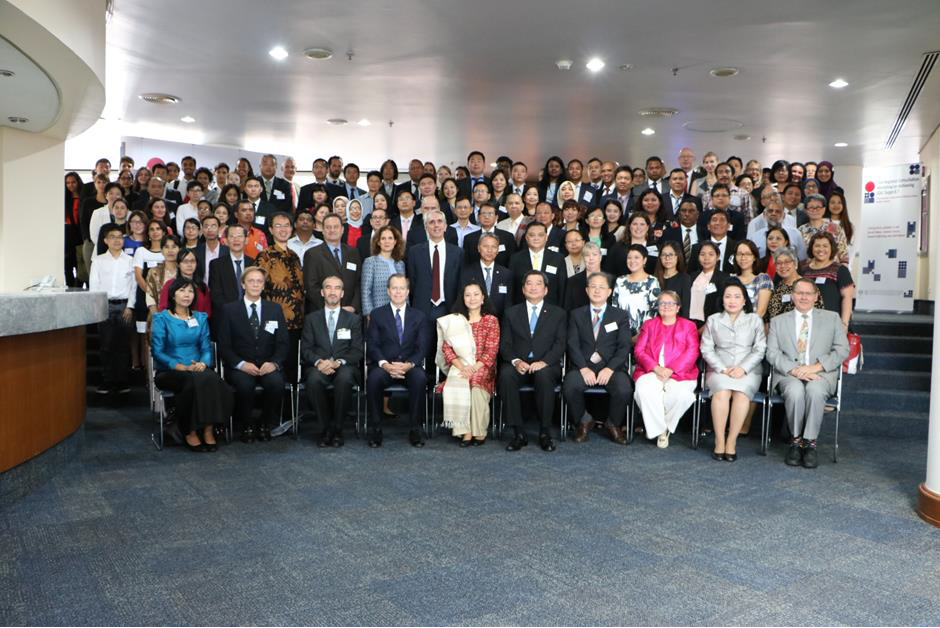 In September the ILO launched Alliance 8.7 – a coalition of different stakeholders that has the aim of achieving SDG 8.7. The SDGS are a set of seventeen inter-related, mutually reinforcing and universally applicable goals to frame the global development vision for the next 15 years. Within each of the SDG adopted, specific targets have been identified which are essential to achieving the goals. For SDG 8 on Decent Work and Economic Growth, one of the essential targets is 8.7: Take immediate and effective measures to eradicate forced labour, end modern slavery and human trafficking and secure the prohibition and elimination of the worst forms of child labour, including recruitment and use of child soldiers, and by 2025 end child labour in all its forms.
While GAATW's concerns lie across a number of the SDGs, 8.7 is undoubtedly highly relevant for us.
On 14-15 September the first sub-regional consultation was organised in Bangkok with stakeholders from East and South-East Asia and the Pacific, which Leah Sullivan from GAATW-IS attended. The event unfortunately lacked the adequate participation of trafficked persons, former victims of slavery and child labour, though thankfully there was consensus from the participants on the need for more meaningful representation and participation going forward. Leah stressed the need for representation and involvement of the affected communities, as well as the need for the Alliance to meaningfully communicate data and findings from its work back to the grassroots level. She further pointed out the discrepancy in the legal approaches to trafficking versus legal approaches to human rights abuses in corporate supply chains (i.e. prosecutions for traffickers, but non-binding principles for businesses) and joined other voices in pointing out that while this new framework is good, stakeholders need to continue to promote the ratification of international conventions relevant to the elimination of forced labour, child labour, trafficking in persons and the rights of migrant workers.
Meeting of GFW-supported women's rights organisations working on human trafficking in South and Southeast Asia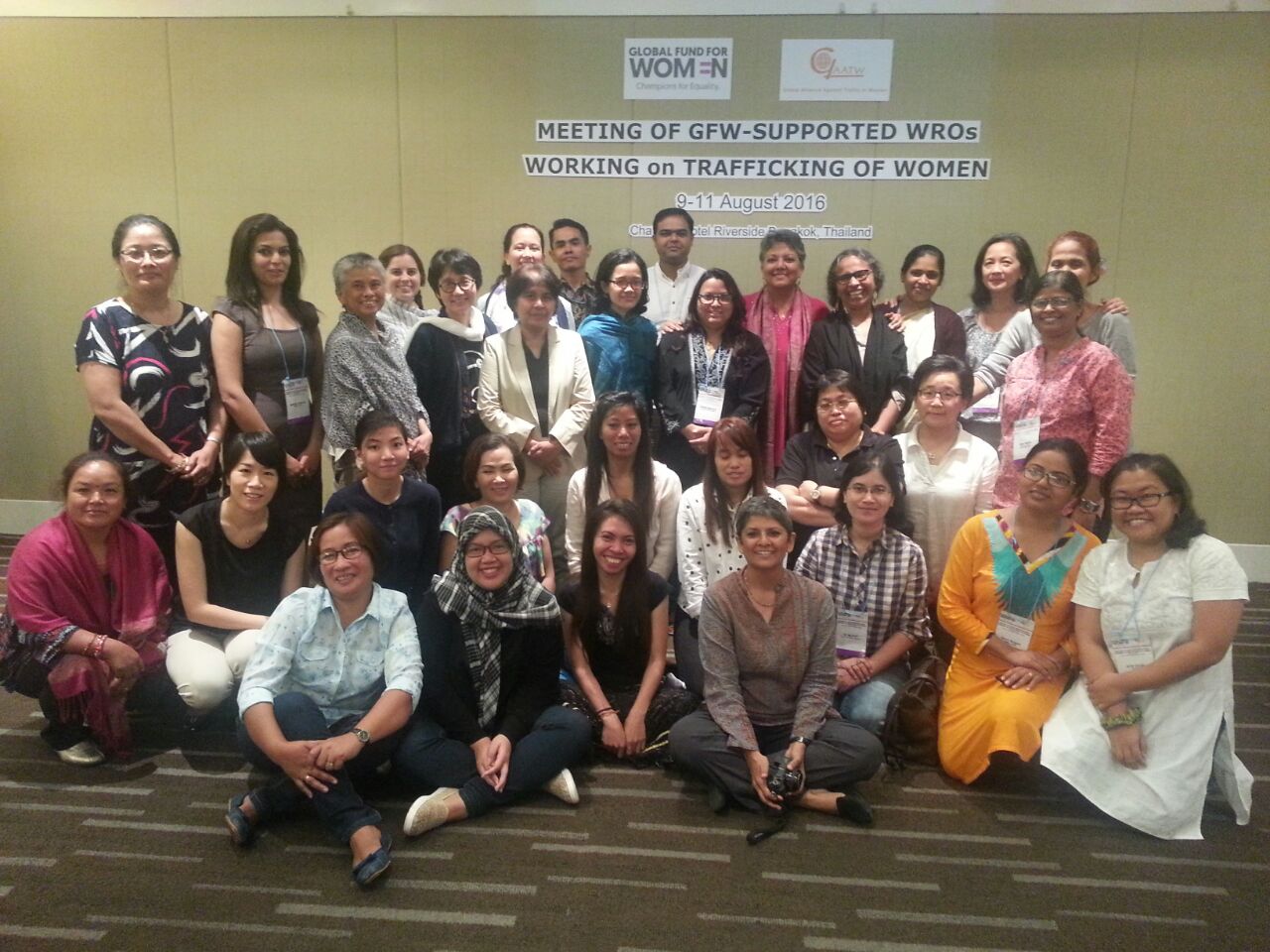 On 9-11 August, the Global Fund for Women, in cooperation with GAATW-IS, convened the third and last meeting of the 13 organisations from South and Southeast Asia funded within the mutual learning initiative. The aim of the meeting was to discuss the progress, learnings, current challenges and future opportunities that the partners see at the end of the three-year programme.
On the first day, we discussed the three papers – on 'Reintegration', 'Access to Justice' and 'Voices and Participation' – which the GAATW-IS is preparing based on desk research and the experiences of the partners from their work with trafficked persons and returnee migrants. These key thematic issues were identified by participating organisations in the initial stage of the programme. Each organisation made a brief presentation of the successes and challenges and lessons learnt in each of the three areas. These presentations will feed into the papers, which will be finalised in the coming months. On the second day, Srilatha Batliwala from CREA made a powerful presentation on 'movement building' and we were encouraged to consider our role in the 'anti-trafficking movement' and the role of GAATW-IS as a movement-building organisation. On the last day we discussed in general the challenges and lessons learnt during the programme and future of this learning initiative and how to build upon it.
Access to Justice for Exploited Cambodian Workers in Thailand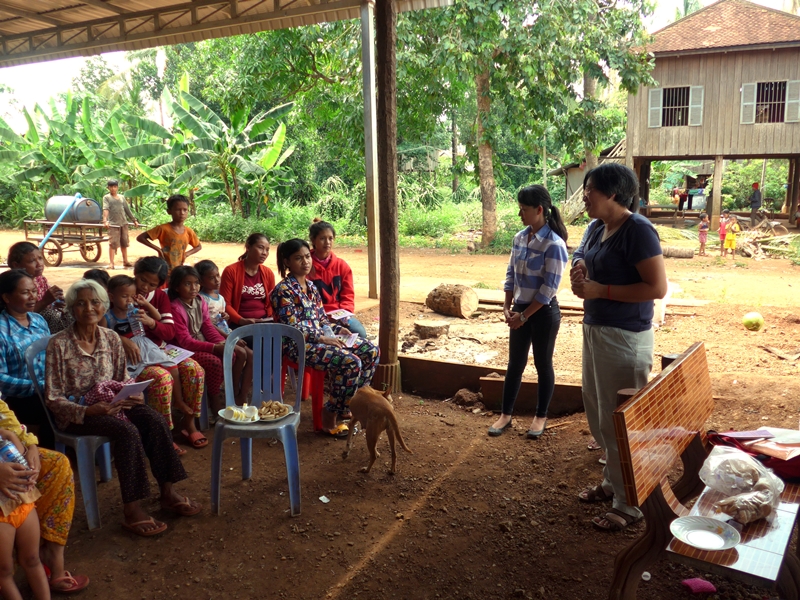 Our interaction with Cambodian migrant workers both in Thailand and Cambodia has made us aware that many Cambodian workers have abandoned their pursuit of justice after experiencing exploitative working conditions because of a lack of understanding of rights, laws, alternative options, and few examples of successfully pursued fair resolutions. Our research project carried out in conjunction with Legal Support for Children Women, our member organization in Cambodia, aimed to explore which areas in the legal system have helped Cambodian migrant workers and which areas still need improvement. We gained insights and recommendations from our analysis of interviews with workers and NGOs in both Thailand and Cambodia and also met with government officials, factory managers, village leaders, and family members of migrant workers to better understand the context of their experiences.
We learnt that many workers had very limited understanding of the costs, laws, timelines, and consequences of the available pathways for migrating for work in Thailand. A lack of knowledge of the continuously changing rules and regulations leave uninformed workers vulnerable to exploitation by opportunistic and largely unchecked recruitment agencies. Our interviews found that what is 'just and fair' from the perspective of Cambodian workers often represents to them an impractical investment of their scarce resources while the economic pressures that prompt the migration remain.
We are currently sharing the research findings with Cambodian and Thai service providers to formulate recommendations on how to best address the identified challenges.
Training of community organisers in India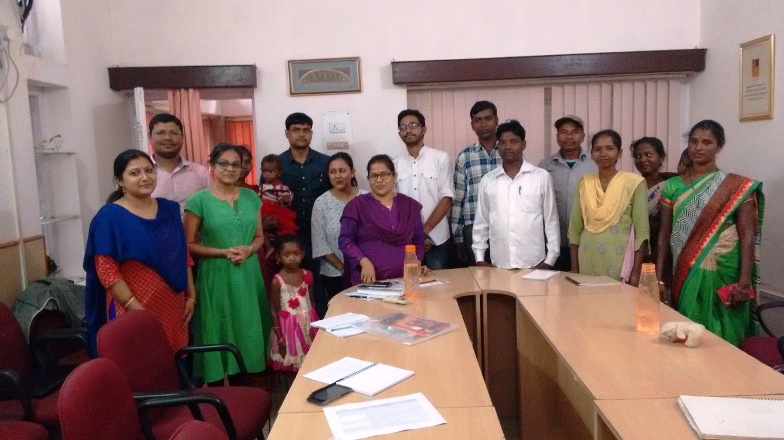 In September GAATW-IS staff visited several organisations in the states of Jharkhand, Odisha, and Chhattisgarh in India to learn about the work they are doing as part of the ILO Work in Freedom (WiF) Project and to determine how best we can support them.
The organisations we visited focus on enhancing the capacity of community mobilisers, connecting women and adolescent girls with livelihood programmes in order to reduce distress migration, as well as unionising women in order to strengthen their awareness and negotiating ability. We conducted a training for community mobilisers so they can lead community-level meetings with the target group to provide them with information about safe migration and ensure support for girls and women who migrate, both in the origin and in the destination state. The goal is that women from villages are empowered and become leaders so that they become self-reliant and are not dependent on NGOs for support. The community mobilizers are seen by all organizations as the frontline workers. These organizations try to work with the Government to implement change, where they attempt to liasion with state rural livelihood missions and skill development missions to link families with income generation scheme, and skill building opportunities.
In Odisha, we met NGOs that are focused on unionising potential migrant women. In Cuttack, there is an active and vocal union of 1225 domestic workers and 60 construction workers who have been successful in understanding their rights and battling for them like non-payment of wages, being ill-treated, etc. In Kandhamal, we met another union of potential migrants who have been in the union for a year but do not yet consider it an important voice and do not yet understand the implications of being unionised. Nevertheless, this reiterated for us the beneficial impact of unionisation as in Cuttack women clearly understood their rights and were able to articulate their need of being respect for their work, adequate wages, and worker benefits like pension and education for their children.
This visit has enabled us to explore how we can play a greater role in both capacity building and furthering the advocacy agenda of Work in Freedom's partner organisations as well as learn about the socio-political and economic structure in the three states in the context of safe migration and trafficking.