E-bulletin January 2017 - News from our Member Organisations
Access to Compensation for Trafficked Persons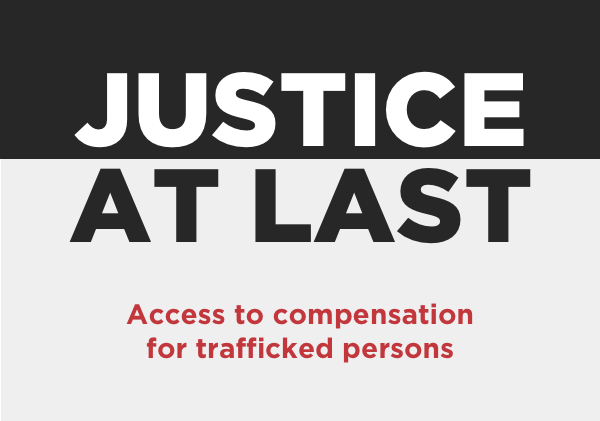 In October, La Strada International and 32 other GAATW members and partners launched the campaign 'Justice at Last – Access to compensation for trafficked persons' to raise awareness about the rights of trafficked persons to claim and receive compensation.
Although compensation is a guaranteed right by the Council of Europe Convention and the EU Directive, in practice it remains underutilised. There are many obstacles that prevent trafficked persons from seeking and obtaining compensation. There is lack of awareness among the police and judicial system and criminal and civil proceedings are often lengthy and costly. Traffickers are not found, not prosecuted, or have moved their assets to avoid seizure and confiscation. The irregular status of a person, or their work in the sex industry, is another obstacle. Even when trafficked persons are awarded a compensation claim, they are usually responsible for enforcing the compensation order themselves.
The NGOs urged European governments to implement ten action points that will remove obstacles and improve access to compensation.
Monitoring the Implementation of Anti-Trafficking Legislation in Bolivia, Colombia and Guatemala
In November GAATW-IS, Fundacion La Paz (Bolivia), Corporación Espacios de Mujer (Colombia) and ECPAT Guatemala presented the findings of the report 'Critical Assessment of the Implementation of Anti-Trafficking Legislation in Bolivia, Colombia and Guatemala'. The aim of the report is to encourage governments in the three countries to improve the implementation of anti-trafficking laws and policies to better respond to the needs of trafficked persons. The report highlights (1) the existing gaps between what the anti-trafficking legislation states and the actual services provided by government agencies, and (2) concrete recommendations for the three governments to take forward.
The executive summary of the report is available in English and Spanish and the country reports for Bolivia, Colombia and Guatemala – only in Spanish.
Research on Migrant Workers in Singapore
In October our Singaporean member Transient Workers Count Too (TWC2) published to reports focusing on different aspects of access to justice for migrant workers in Singapore.
'Diluted Justice: Protection and Redress for Trafficked Fishermen in Asia', a joint research by TWC2 and Dr Sallie Yea, revealed that trafficked fishermen face insurmountable barriers to access legal and economic justice and protection. These barriers are caused by gaps in victim identification and assistance and lack of political will on the part of authorities to investigate the issue and prosecute the criminals. The research focused on the trafficking of fishermen involving Singaporean, Taiwanese, Filipino, Cambodian and Indonesian actors working in collusion to deploy men into hyper-exploitative working situations on Taiwanese fishing vessels. It involved interviews conducted with fishermen victims, some of whom were also witnesses in criminal justice proceedings and plaintiffs in civil compensation cases, their family members and key informants from non-governmental NGOs and international organisations in Singapore, Cambodia, the Philippines and Indonesia. In addition, documentary evidence shared by interviewees was also produced to support the key arguments and news reports on recent high profile cases of trafficked fishermen were also cited to corroborate findings. The report ends with recommendations to governments in the region, as well as specific recommendations for the governments of Singapore and the Philippines.
'The Price of a Job' takes a detailed look at recruitment costs borne by female domestic workers in Singapore. Based on a survey of 232 workers conducted in early 2016, the study reveals how much they paid, to whom, and how many months' of salary deductions these payments represented. It also gathered their opinions as to what they think would be a fair rate — a question seldom asked in any other research — and takes a stab at explaining why they hold the opinions they do. The study concludes that while the curbs on recruitment costs attempted by the Singapore government and governments of origin countries have not fully achieved their professed goals, 'they have had a positive impact in bringing down the number of months that it takes workers to pay off their recruitment costs.' However, the study also reveals that other issues, such as training fees and transfer fees for a placement with an employer, are not working out.
Outreach to Migrant Women in Hidden Work Locations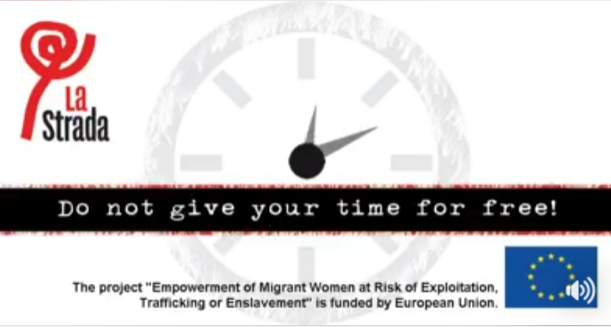 Since 2014, La Strada Czech Republic, LEFÖ (Austria) and Ban Ying (Germany) have been implementing the project 'Empowerment of Migrant Women at Risk of Exploitation, Trafficking or Enslavement'. The project built on the extensive experience of the partners in various forms of outreach work, awareness-raising campaigns and advocacy activities and focused on three complementary parts of how to support the target group. Because migrant women are isolated from common awareness-raising measures, such as media or social networks, the project aimed to find alternative ways of informing them about their rights and ways of resolving abusive situations, as well as to offer them assistance through specialised services. Firstly, possibilities of alternative outreach work were tested. For example, in Austria, LEFÖ published a brochure informing migrant women of their rights and where to seek assistance; in the Czech Republic, La Strada developed a banner, which was translated in six languages and promoted on Facebook and Google. Secondly, the tailored assistance services for migrant women were defined and implemented and thirdly, after the evaluation of the legislation, a strategy for further advocacy for the rights of migrant women was prepared.
Protest against Violence against Sex Workers in Madrid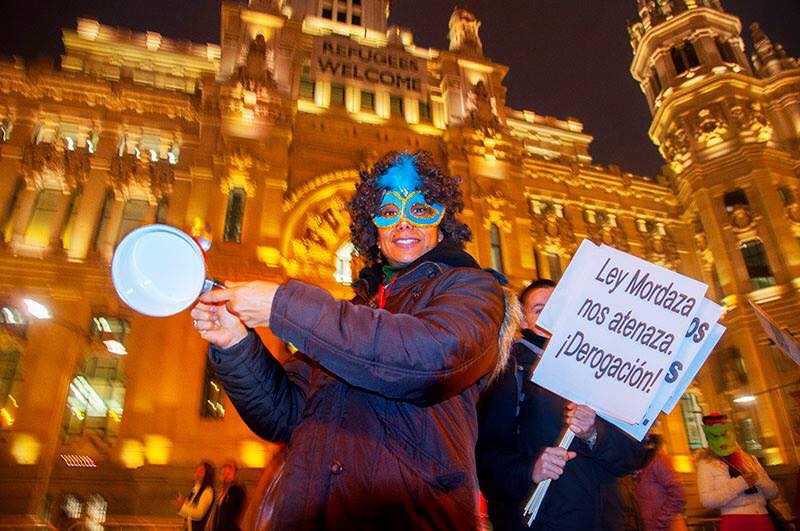 On 14 December Colectivo Hetaira and AFEMTRAS (Agrupación Feminista de Trabajadoras del sexo/Feminist Association of Sex Workers) organised a 'cacerolada' (a protest rally during which the participants bang pots and pans) in front of Madrid town hall. The aim of the action was 1) to demand an institutional answer about the police abuse experienced by street-based sex workers who work in Villaverde industrial park, 2) to demand the abolishment of the Civil Security Law (popularly known as 'gag order') which illegalises street prostitution, and 3) to remind the current (left-wing) mayor of Madrid that it's about time to begin to develop a participative process to protect sex workers' human rights.
To commemorate 17 December – International Day to End Violence against Sex Workers - and to reinforce the above-mentioned demands Hetaira and AFEMTRAS organised a panel discussion during which several speakers talked about the necessity of a radical change in Madrid's sex work politics and of fighting the stigma and discrimination against sex workers. Recordings from the panel discussions are available on Hetaira's YouTube channel.