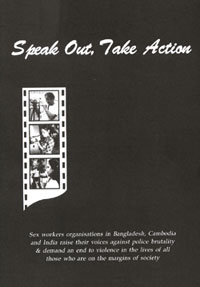 This booklet was put together in conjunction with the three documentary films on police brutality made by Durjoy & Ulka from Bangladesh, Cambodia Prostitute Union from Phonmpenh, and Kerala Sex Workers Forum, India. The three films are the maiden efforts of the women at handling video cameras to document their struggles for human rights. Made as part of the activity which also involved EMPOWER foundation from Thailand and Shakti Samuha from Nepal these films record the inhuman treatment which sex workers receive from the State.
The film from Bangladesh was the opening film at the Asia Pacific NGO Forum on Beijing+10. National screenings of the films were held to packed audiences and they were also shown in Bangkok.
This booklet provides a global context to the state sponsored violence towards sex workers in many parts of the world by giving excerpts from reports sent to us by colleagues and/or published in the web. It also lists out the human rights groups who have raised their protest against such brutality.