Documenting our Lives; Using Video Cameras to Tell Stories of Struggle & Exploitation
Background
GAATW sets great store by the self-organising and self-help efforts of women. Over the years we have worked with several self-organised groups and in some instances our projects have facilitated the formation of small groups among these women. The groups, many of which are informal, have been started by sex workers, domestic workers, trafficked women and factory workers with support from local sister organisations. They are an integral part of our Alliance.
The Project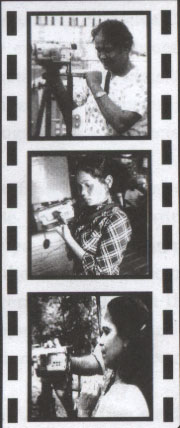 "Documenting our Lives" (2001-2004) was a continuation of GAATW's commitment and solidarity with the struggle of women within the informal economy for social, political and legal rights.
Participants in the first phase were Nari Pokkho, Durjoy and Ulka of Dhaka, Bangladesh; Cambodia Prostitutes Union & Cambodia Women's Development Agency from Phnom Penh, Cambodia; Jwalamukhi from Trichur in Kerala, India; SAFE from Rajapur, Nepal, and EMPOWER from Thailand. When SAFE dropped out because of the Maoist problems in Nepal, Shakti Samuha, a member organisation of GAATW, joined the team. Shakti Samuha has been set up and is run by a group of women who had been trafficked.
Right from the start the project we recognised the advocacy work of the groups and aimed to strengthen their self-representation efforts. So the project merely aimed to provide them with a skill/tool and did not prescribe what they should/would be talking about. Training in the use of handheld video cameras was organised for the entire group after which the groups themselves sought help from local film makers and enhanced their skills. This was also an important aspect of the project. The fact that small self-organised groups work in solidarity with many local groups and in several instances engage in the larger movements of social justice, was recognised and encouraged. In late 2002, GAATW International Secretariat organised Partners in Change, a conference which brought together sex workers, domestic workers, factory workers, and formerly trafficked persons who have formed groups.
The films in 2002
Naturally, the video film making groups were part of this conference. It was at this conference that they showed the results of their maiden efforts at documenting their lives. Five very different films had been made by the women. EMPOWER had made a film on their education programme. Shakti Samuha had made a video brochure about their work. Cambodia Prostitutes Union (CPU) had made a docu-drama about their lives. Jwalamukhi had made a silent film about a day in a sex worker's life. And the women from Bangladesh had made a film about police brutalities which they experience.
Decision to Focus on Police Brutality against Sex Workers
While all the films were highly appreciated by the participants of the conference it was the film from Bangladesh which touched a raw nerve in the audience. Rough and rather hastily edited without any sub-titles, We the Citizens, talked about the inhuman treatment from police which sex workers in Bangladesh face. The women from Cambodia and India also had similar experiences and had taken some steps to address it. CPU had systematically documented the human rights violations and presented it to the government.
Thus began the second phase of the Documenting our Lives project during which the groups from Bangladesh, Cambodia and India explored the issue of police brutality further, made three short films on the issue, carried out national level advocacy and awareness raising campaigns.
Some Details of the Films on Police Brutality
(Please note that the films are not available for distribution or sale from GAATW-IS or from the film making groups. Kindly do not send us requests for copies.)
When We Walk the Streets (Bangla with English sutitles, 26 minutes, made by members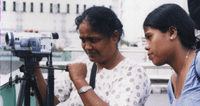 of Durjoy and Ulka, no email address) - The film makers take turns to do interviews with each other and recount the violence which they experience from the police. They enact a scene of brutality and show their wounds to the camera. They laugh, sing and make fun of the police in a sarcastic song which they had composed while in custody. They also interview NGO workers, health workers and members of the general public.
The film was premiered in Dhaka in August 2003 at a public auditorium. Three hundred people attended the screening. It was also the opening film at the Asia Pacific NGO Forum on Beijing+10 in Bangkok in July 2004. (Click to read a short document on police brutality on sex workers all over the world; Speak Up, Take Action)
We are Women Too (Khmer with English subtitles, 16 minutes, made by Cambodia Prostitutes Union,)
Also an interview based film – the interviews were done only with the sex workers. The women talk about gang rape, torture in police custody, murder and bribery. They conclude with an appeal to their government to put an end to such practices.
There was a special screening of this film for sex workers of Phnom Penh in May 2004. Sixty sex workers came to the screening and had a one-day workshop to discuss strategies to stop violence in their lives.
A Peep into the Silenced (Malayalam with English subtitles, 18 minutes, made by Sex Workers Forum) - This film claims that there is a direct link between police violence and the anti-trafficking legislation in India and concludes that decriminalisation of sex work will go a long way in curbing violence against sex workers.
The film was discussed and shown at a national workshop on the anti-trafficking law and the situation of sexual minorities in India.
Documenting Our Lives: A video film on the making of When we Walk the Streets
In 2003, at the request of GAATW-IS, Lawan Jirasuradej, a Bangkok-based film maker travelled to Bangladesh to document the film making process. This short film (16 minutes) documents the training, the hopes and plans of the women.